University of Memphis Campus Maps Information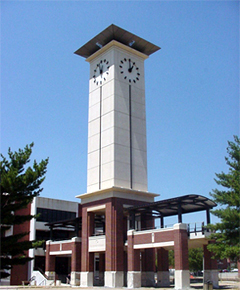 The University of Memphis Campus Maps Web site is designed as an online resource for finding destinations throughout the University of Memphis campus.
In addition to the clickable campus maps, this site also contains building photos, names, abbreviations and street addresses. Also included are departmental names, room numbers, phone numbers, fax numbers, e-mail contacts and hyperlinks to departmental Web sites.
The latest additions to the Campus Maps site include building floor plans viewable to UofM clients. Floor plans are provided and maintained by the Office of Space Planning and Utilization. For detail information about floor plans visit Space Planning's Floor Plan Information [PDF].
The Campus Maps Directory / Search search utility can help you if you're not sure where to begin looking for information. From here you can view an alphabetical list of departments, view all departments list, select from a building drop down menu, or use one of the search forms: search by department, building or address.
A print-friendly version can be viewed or downloaded via the pdf
[PDF] print version of the Campus Maps. (278K PDF) GetAcrobat Reader
Other resources like Google Maps provide location specifics, and even driving directions to U of M addresses.
This site is maintained by ITS Web Services.
Campus Maps Legend

Buildings
Parking
General Parking
Priority Parking
Handicap Parking
Reserved Parking
Visitor Parking
Memphis Police Department Substation
Parking Information / Police Services

Park Avenue Campus Map Legend

Buildings
Parking
Fence
Fields
Neighborhood Buildings
Roads
Referencing Campus Maps Building Information
By the Official U of M 3-digit Building Number (Building Code): bldg.php?Building_Number=001
By the Official U of M Building Abbreviation: bldg.php?Building_Abbrev=AD
By Building ID (unique to the campus maps): bldg.php?Building_Id=1
Referencing Campus Maps Departmental Information
Download Print Versions of the Campus Map
| | |
| --- | --- |
| TigerMaps - Campus Maps and Facility Information | Other Links of Interests |